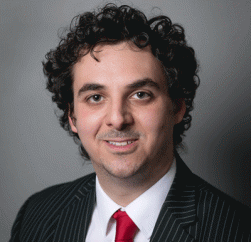 David was born into a distinguished Anglo-Jewish family where his love for music was encouraged from an early age. He is the grandson of Rabbi Judah Rockman, an esteemed ambassador of British Jewry for over half a century and is also a descendant of the legendary Oscar Rabin, leader of one of the most successful Jazz and British dance bands of the 1950s.
At the age of 18, David became Cantor at one of London's most prestigious congregations – Ilford United Synagogue. Having completed his Cantorial training under the guidance of Cantor Stephen Robins, David has become a renowned wedding singer and has served as Cantor at Cockfosters and N Southgate, Bushey & District and Woodside Park Synagogues.
He is also a Representative for The Jewish Lads & Girls Brigade and The Lewisham Police Force.
For two years, he led services at Mill Hill Synagogue on a regular basis, as well as directing the Nussach Hatefilla programme at Hasmonean High School in London.
"Aiming to enhance the beauty of the services within the framework of the traditional modes of prayer, interlaced with a modern musical outlook."
David has also been Resident Soloist with the London Cantorial Singers since 2006, performing both nationally and internationally. In 2008, David was invited to perform at the "Chanukah in Trafalgar Square" ceremony, where he had the honour of perfoming in the presence of 5,000 people as well as the Mayor of London – Boris Johnson.
Concomitantly with his musical accomplishments, David has also pursued a degree in Humanities, graduating in 2011 from University College London with a BA Honours degree. He is an accomplished pianist, with a wide repertoire ranging from Jazz to Cantorial music. He often performs music arranged by Meir Finkelstein as can be heard on this website.
David has been acclaimed for bridging the gap between traditional and modern Jewish music.